Philadelphia Eagles head coach Andy Reid is a smart man, but man, he can be stubborn, arrogant and dumb at the same time.  Its a baffling mix that leaves Eagles fans expecting success and failure simultaneously.
Reid has been successful while unsuccessful at the same time.  He's the man with a master plan yet he cannot game plan.  He has great vision in that he can see the big picture, but he is blind to some smaller, yet important details.
He's brought the Eagles their greatest achievements and at the same time, their greatest failures.  He's masterfully overcome controversy throughout his career only to be the cause of it at other times.
Andy Reid has been the ultimate tease of a certain male appendage when it comes to giving Eagles fans a Super Bowl championship.  So close, but yet so far away.
That's the position we as Eagles fans find ourselves when it comes to the subject of Andy Reid.  To say he is a good coach is almost paradoxical in nature.
Simply put, Andy Reid is frustrating.  But why?
It's because he's been so successful but cannot reach the pinnacle of the NFL.  Eagles fans have grown to expect to compete for a Super Bowl in just about every year nowadays.
Much of that is due to Andy Reid and his track record of making the playoffs.  Yet, every year the Eagles come up short for one reason or another.
We all know most of his flaws, but I'm here to categorize them for you.  Yes, Andy Reid is a smart man.  However, he has shown things over the years…and this year…that are stubborn, arrogant and just plain dumb.
First, let's define the meaning of these three words as per dictionary.com:
Stubborn: Fixed or set in a purpose or opinion.
Arrogant: Having an offensive display of superiority or self-importance (defined under arrogance)
Dumb: Lacking intelligence or good judgment
Okay, now that have officially defined these words, let's see what actions and/or behaviors fall under these categories for Andy Reid.
How Reid is stubborn:
The No. 1 thing on this list is Reid's stance on linebackers.  He has never, ever put a priority on fielding capable linebackers.  The best one he ever had was Jeremiah Trotter, whom he inherited from his predecessor Ray Rhodes.
And this year it is costing the Eagles more than ever before.  When you decide to employ a defensive line scheme such as the "wide-nine", you better have good linebackers (see under section "dumb" later).
Reid's stubbornness even trickles down to the players.  Reid stated earlier this week that there will not be any changes to the defensive coaches.  Then the players added that they won't change their scheme either.
I can agree that it's simply too early to start making coaching changes but they need to make a change in the scheme right now, before it's too late.  Not that it would be easy, but what they're doing now is just not working at all.
Something in the defense needs to change.  If not, they'll be rewriting the history books this year…in a bad way.
Another prime example of Reid's stubbornness is his insistence on running trick plays, particularly down at the goal line.  Newsflash Mr. Reid: They don't work anymore!  Just play football!
When is the last time you saw a wide receiver end-around, or fake end-around, work?  When have you ever seen Reid's version of the wildcat work?  Last week's run-pass option to Ronnie Brown was a perfect example of how these things just don't work for him.
Yet, he continues to implement them into his game plan.  Why?  Because they'll work…eventually, right?  Wrong!
The last thing I'll bring up under this category is Reid's undying penchant for passing the ball.  His philosophy is to pass early and often in order to jump out to a big lead, and then run the ball late in the game to kill the clock.
I think that has actually worked about five times in the past 12 years.
Before this year, Andy Reid loved having big, road-grading type offensive linemen.  Yet, he would never play to their strengths because he wanted them to pass-block 70 percent of the time.
He also seems to think that when his quarterback is in a funk, the best way to get him out of it is to keep having him pass the ball.  He did this constantly with Donovan McNabb and it never worked.
When McNabb was having a bad game passing the ball, instead of helping him out by running more, Reid would keep passing and McNabb would look even worse.
With Michael Vick, he sees him getting killed out there and what does he do?  Continue to call pass plays!  (I will point out that the Giants game this year was an anomaly as he actually ran more than passed for once).
I'm sure you've heard the old phrase that says you should run the ball in order to set up the pass, right?  Andy Reid passes the ball to set up the pass!
How Reid is arrogant:
Andy Reid typically displays this trait during his press conferences.  He is usually short and not forth-coming with his answers.
It's as if people who don't coach a football team have no idea what they're talking about and just don't understand.
He can sometimes be terse and condescending with his answers to fair questions and never feels the need to offer any explanations on things.  Here is a great example of how he gets when he's asked a hard question (click the link to see the video):
Bravo to Mike Missanelli for hammering Reid on his play call for the run-pass option play to Ronnie Brown down at the goal line against the 49ers.
Andy Reid was both sarcastic and arrogant in that clip even though he was asked a legitimate question.  It was also a question that many fans like us want an explanation for.
Yet, his "I'll give you what I want to give you" line is exactly what I mean about his arrogance.  Just suck it up Andy and admit it was a bad play call and leave it at that.  Don't act annoyed at the question.
Perhaps if Reid was a little more open and honest with his answers, the fans might actually be able to warm up to him a little bit.  I'm not saying he has to lay public blame on players or other coaches, but he can be better in these situations and give a little more insight than he does.
It's this demeanor that turns off many fans and why his likability score is low.
How Reid is dumb: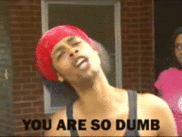 It's truly hard to point out dumb things about Andy Reid.  I honestly do not think he is a dumb man.  But damn, he can be an idiot!
I'll spare you the list of things throughout his career and just focus on this year alone.
First up: Hiring your offensive line coach to be your defensive coordinator.  Yes, this falls under the dumb category.
Juan Castillo could eventually turn out to be great defensive coordinator, and I truly hope he does.  However, right now the decision just looks even more dumb now than it did when it was announced it back in February.
The Philadelphia Daily News captured what everyone was thinking when they heard the news about Castillo:
Four weeks into the season and we're still wondering what on earth Reid was thinking (or smoking) when he made this decision.
Then, he brings in the great defensive line coach Jim Washburn because of his unique pass-rushing scheme called the "wide-nine."  Yet, he completely ignores the fact that you need quality linebackers in order to be successful as a whole on defense with that scheme.
Again, just dumb and a serious lack of forethought.
Other things I'll file under the dumb category are:
– He just can't master the concept of efficient clock management
– His curious play-calling in critical situations
– His inability to decide when, and when not to, challenge a play
– His decision to completely redo the offensive line that protects an injury prone QB (and who you just paid millions of dollars to)
– His decision to get rid of David Akers (that was probably a combination of dumbness, arrogance, and stubbornness)
There are probably other things we could identify here that I'm either forgetting or don't know about.  However, I think that is enough, don't you?
Alas, Andy Reid is the Eagles' coach.  As frustrating as he is, he is still the key to getting this season turned around.
And for the record, I am not raising the white flag on this season yet.  There is still time, albeit not much, to get this thing turned around.
If Reid needs to step in on defense and "order" them to change the scheme, then that's what he should do (since that's the main issue right now anyway).  Or, if he needs to do what he does best and keep everyone calm and focused, then he needs to that.
Whatever the case may be, he needs to find a way to fix it before this year is completely lost.  Andy Reid and the Eagles are standing on the brink of a failed season right now.
He's turned his team around before and he can do it again.
Can he save the sinking ship this time or will they go down like the Titanic?
Hey Andy: Time's yours.
About the Author