With all of the attention focusing on what cornerback the Eagles should get, I thought I'd focus on other less-talked about free agents the Eagles could consider signing. 
Everyone knows that cornerback is the biggest need in Philadelphia.  This is followed by needs at defensive line and backup quarterback.  But there could be a few other positions Andy Reid an Co. could be targeting in the eventual upcoming free agent bonanza.
Let's take a quick look at three free agents at "other" positions that could be of interest to Andy Reid and the Eagles.
Running back.  This has been talked about to a lesser degree but is not viewed with much importance since we already have a stud in LeSean McCoy. 
But I am convinced that Jerome Harrison will be gone and I'd seriously doubt the Eagles will be comfortable having rookie Dion Lewis and journeyman Eldra Buckley as the backups.
Who's available that Andy Reid would be interested in?  The running back the Eagles sign will have to be okay with playing second fiddle to McCoy and only getting 5 – 10 touches per game. 
Reid likes the smaller, shiftier runners who are good pass catchers. 
The top player that fits all those descriptions is Darren Sproles.  The 5′ 6″, 190 lbs speedster has a career rushing average of 4.6 YPC, a receiving average of 9.6 YPC, a kick return average of 25 YPR, and has scored a total of 21 TDs.  Not bad for five year's of work in a reserve role.
He's exactly what Reid would look for in this position.  Plus, the added benefit of being a kick and punt returner makes him even more enticing.  The only problem is that he may be looking for a little too much money for the Eagles' taste.
Other possibilities would be Detroit's Kevin Smith, Houston's Steve Slaton (if he gets released as expected), and maybe even Miami's Ricky Williams. 
Offensive tackle.  Specifically, right tackle.  Andy Reid has said earlier this offseason that Winston Justice and King Dunlap will battle for the starting job.  That's not exactly a clash of the titans there. 
If there is a player available who would, or at least could, be an upgrade and not command a huge payday, the Eagles could very well be interested in adding some more competition.
Pittsburgh's Willie Colon is exactly the kind of players the Eagles might look at.  He's a right tackle, is in his prime at 27 (soon to be 29), and is considered a decent run blocker but very good pass blocker.
He missed all of last year with a torn Achilles tendon and is not expected to re-sign with the Steelers.  The fact that he's not considered a dominant tackle and is coming off of that kind of injury makes him the type of player the Eagles would look for at that position right now.
*Note, I'm not saying the Eagles are cheap here.  It's just that they won't view right tackle as a dire need where they have to spend big money.  But they would be interested if they could get a good deal on a player.
Outside linebacker.  The Eagles always seem to have a need at the linebacking position.  They do have a bunch of young guys but also have a bunch of soon-to-be free agents as well. 
It is very possible that they go looking for some middle-of-the-road (or maybe even "above average") help here, especially if they let Stewart Bradley go.
Carolina's James Anderson is a player I could foresee the Eagles going after.  He played the strong side in the Panthers' system and last year produced 130 tackles, 3.5 sacks, two FFs, and one INT.  At 6′ 2″, 235 lbs, he's about what the Eagles like size-wise.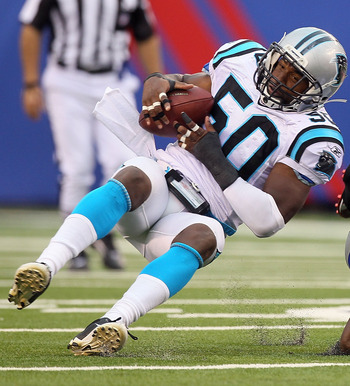 We all know Andy Reid does not go for top tier talent at this position so you can forget about going after any "names" here.
The Eagles are said to like Moises Fokou but I believe they don't like him enough to not bring in any competition for him.  Anderson is an all-around better linebacker than Fokou and would upgrade the SLB spot on the defense.  Plus, he wouldn't break the bank.
Other possibilities would be Jacksonville's Kirk Morrison and Atlanta's Stephen Nicholas.
About the Author