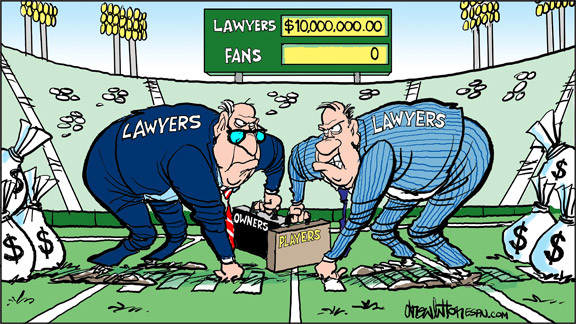 All of the recent optimism regarding negotiations seemed to be pointing at an imminent deal as early as the holiday weekend.  But now reports are surfacing that talks are "trending backwards" and that the owners are trying the old "bait and switch" in negotiations.
You can read two excellent articles regarding the current state of the labor talks.  Mike Silver of Yahoo! Sports breaks it down very well and Chris Mortensen of ESPN has seemingly taken lead as the guy with inside information. 
As usual, the main snag in the talks is how to divide the revenue.  Apparently, there was a "verbal handshake" a few weeks ago after the two sides discussed and liked the idea of splitting the total revenue.  This is when word leaked out that the players would get 48% of all monies generated.
This is what spawned much of the positive vibes recently.  Unfortunately, they have begun taking steps backwards. 
The players are accusing the owners of trying to add in exclusions (called expense credits)  from the total revenue pie which are adding up to almost a half-billion dollars.  The old model CBA included the owners taking $1 billion off the top before any revenue sharing took place.  Then the players would get 58% of the rest.
The new model was to supposedly do away with $1 billion exclusion and simplify things by just giving the players 48% of total revenue.  But if the owners are trying to add in expense credits, that's just like getting back to that $1 billion off the top.  This is why a player source was quoted as saying "this sets us back to March 11th" (beginning of the lockout).
The owners are frustrated and saying the players are insisting on including non-football related events held in the stadiums during the offseason be included in total revenue.  And oddly, the players are apparently insisting that all sales tax generated by ticket sales be included as well (which simply just doesn't make much sense).
Even with both of these reports that point to another potential impasse, it was also noted that the two sides met for 15 hours yesterday and didn't end until sometime after midnight.  They also planned to pick things back up at 8:00am this morning.
In my opinion, you don't meet like that unless there is some real hope that things will start coming together.  The deadline to get this done before it begins impacting revenue is rapidly approaching and nobody wants to lose money.
July 15th seems to be the date most people agree as a deadline for a new CBA before it begins impacting the preseason.  Let's cut the crap and get this done people!
About the Author