Recent news leaks outlining some of the parameters of a potential new CBA state that the NFL will be back to the four-year rule when it comes to players being eligible for free agency. Although this was pretty much expected, it now brings to light which players on the Eagles meet that requirement and could end up leaving the nest.
Back in March, the Eagles tendered several players a contract.  This was only to protect themselves against losing a player that would have been a restricted free agent under 2010 rules.  Under a new CBA, these tenders are a moot point.  Players that have four years of accrued service combined with an expired contract will be unrestricted once the league year opens.
However, if the Eagles tendered a player a contract it shows how interested they are in retaining their services.  If they chose not to offer a tender, there is a good chance that player will not return.
Stewart Bradley heads the list for the Eagles.  Will they re-sign him?  Should they re-sign him?  Next we'll take a look at him as well as the rest of the soon-to-be free birds and examine who will back back in Eagle green and who will not.
LB Stewart Bradley
Stew is the highest profile free agent on the Eagles and was given a second-round tender.  His four year career stats show he has 186 tackles, three sacks, three INTs, 13 passes defensed, 15 TFLs, and one forced fumble.  However, the majority of those stats were recorded in two years of play since he only played sparingly as a rookie and missed the entire 2009 season with an injury.
Before his injury, Bradley appeared to be a player on the rise to stardom.  Unfortunately he suffered a serious knee injury on the Eagles' "Fright Night" in August of 2009 (that's what I've called Flight Night ever since).  Last year was a little down for him as he was still trying to fully recover.  He ended up injuring his elbow and missed the final four games which paved the way for Jamar Chaney to show some promise.
Even though he's had injury problems the past two seasons, he still has excellent intangibles.  He is an experienced leader and understands the defense.  He's also still young at 27 and it would be wise to keep him around at least while the defense transitions under Juan Castillo. 
The Eagles will want him back and try to re-sign him.  The only problem could be if another team offers him a better deal.  I, for one, prefer him to come back at least on a one-year deal.  If we let him walk away, there better be a plan to bring in someone good to replace him.
LB Ernie Sims
Acquired for a 5th-round pick last year in a three-way trade with Detroit and Denver, Sims was supposed to be the answer at the weak-side linebacker position.  Yeah, he was an answer alright, just like "E" is an answer on a multiple choice test that only has A through D as choices.
Sims put up 55 tackles, two sacks, five TFLs, and one forced fumble last season but far too often found himself out of position to make plays.  The fact that a Lions team, whom are eager to actually win games but let him go, should have told us something.  He was not tendered a contract and is not expected to re-sign with the Eagles, and I concur.
LB Akeem Jordan
Jordan's career with the Eagles has been up and down.  After signing as an undrafted free agent in 2007, he cracked the starting lineup in 2008 after an injury to Omar Gaither.  He played well enough that he entered 2009 in an open competition with Gaither to be the weak-side starter.  He ended up winning the job but was injured in mid-season and never returned reclaimed his starting gig.
Though he is considered a good back-up and contributes on special teams, he will be allowed to test the market.  The fact that he was recently arrested for assault and battery certainly doesn't help his chances of returning.  I give him a 50/50 chance of re-signing with Philly. 
And even if he does, it would likely be a one-year deal and could very well not survive the final cuts after training camp.
LB Omar Gaither
Like Jordan, Gaither has had an up and down career with the Eagles.  A 5th round pick in 2006, Gaither has gone from backup, to starting at two different positions, and back to being a backup over the past five seasons.  His situation is very similar to Jordan's in that he is considered a viable backup and decent special teamer but will be allowed to test the market.
Gaither was not tendered so it is unlikely he will be back.  The Eagles drafted Casey Mathews, Brian Rolle, and Greg Lloyd this past April so it's very likely that those guys will replace both Gaither and Jordan on the roster.
DE Victor Abiamiri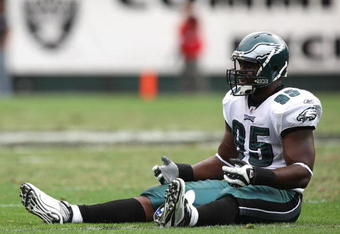 Another one of our frustrating defensive ends that was supposed to be the LDE to complement Trent Cole.  But the 2007 2nd-round draft pick has had a Jerome McDougle-esque career so far.  Last offseason Abiamiri underwent the dreaded micro-fracture surgery that caused him to miss all of 2010. 
In his four-year career, he has totaled 30 tackles, four sacks, and two forced fumbles.  He was not tendered a contract which doesn't bode well for the oft-injured player.  Some players have a difficult time recovering from the type of surgery Abiamiri had so I'm sure that will factor into the Eagles' decision of whether or not to bring him back.
The only chance he has of returning is the fact that Brandon Graham will not be 100% by the start of the season.  But if the Eagles sign a defensive end in free agency (as expected), it is likely we have seen the last of once promising Notre Dame product.
S Quintin Mikell
He is one of the longer tenured players on the Eagles after signing as an undrafted free agent in 2003.  Early in his career he made a name for himself on special teams.  He eventually worked his way into the starting lineup in 2007 and has been the starting strong safety ever since. 
However, his play showed a significant decline after the departure of Brian Dawkins, Sheldon Brown, and Lito Sheppard.  With the promising play of 7th round rookie Kurt Coleman last season and the drafting of Jaiquawn Jarrett, Mikell is as good as gone.  But rest assured, he will most likely land a starting job somewhere and rumor has it that we could still be seeing him twice a year (in a Dallas uniform).
G Max Jean-Gilles
A 4th round pick in the 2006 draft, MJG was a backup and spot starter until a 2009 season ending injury to center Jamaal Jackson enabled him to break into the starting lineup.  His solid, yet unspectacular play earned him a 4th round tender from the Eagles.
This shows that they are interested in keeping him around.  He is not considered to be irreplaceable but is certainly good depth.  He will likely be re-signed but whether or not he makes it out of training camp will have a lot to do with how rookies Jason Kelce and Julian Vandervelde perform as well as any other linemen they pick up as a UDFA.
G Nick Cole
He signed as a UDFA in 2006, the same year the Eagles drafted MJG.  While Jean-Gilles struggled with his weight, Cole surpassed him on the depth chart and was the first one off the bench at any of the interior line positions.  Eventually MJG regained favoritism with better overall play once his weight came under control.
Ultimately, Cole's downfall came after he started at center at the end of the 2009 season and was subsequently abused by Dallas in the final two games (including the playoffs).  Last year he struggled with a knee problem that hurt his effectiveness and status with the Eagles.
He was not tendered a contract and barring an onslaught of injuries along the offensive line in training camp, will not be re-signed.
RB Jerome Harrison
The Eagles acquired Harrison in a trade with the Browns for Mike Bell last October.  It was a surprising move since Bell hadn't done much and Harrison was coming off of a great end to the 2009 season.  When given the chance, he showed that he can be an effective runner and get the job done.
The Eagles liked him enough to place a 2nd round tender on him in March.  I view him as an ideal backup and change of pace runner for McCoy so I hope he does re-sign.  However, he believed he was going to be the starter in 2010 in Cleveland but that never materialized.  He will likely see if he can get a better opportunity somewhere else and if so, he will not re-sign with Philadelphia.
CB Dimitri Patterson, P Sav Rocca, and RB Eldra Buckley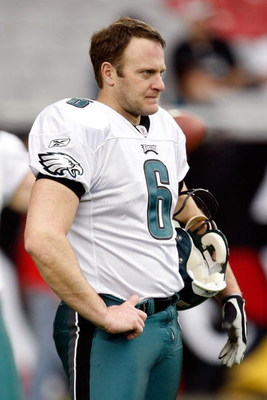 These three were tendered "right of first refusal" contracts.  This means that they Eagles have the right to match any offer any of them receives but would not be compensated if they leave. 
Buckley was claimed off of waivers by the Eagles in 2009 and made the team as the third running back.  He has shown he can run hard but lacks the qualities the team usually looks for in RBs.  The drafting of Dion Lewis likely has sealed his fate and if he is re-signed, he will not make it past the final cuts.
Patterson is a journeyman as he has played for three different teams in his five year career.  He started off hot last season when he entered the starting lineup but cooled off as the year went on.  He did end up recording four INTs and returned one for a touchdown. 
He will likely come back to training camp to compete for a roster spot since the cornerback position is in dire need of any help it can get (outside of Samuel).
Rocca averaged 48.3 yards per punt with a 39 yard net average last season.  Even though 4th round draft pick Alex Henery can punt as well as place kick, it is very likely Rocca re-signs with the Eagles for next season.
K David Akers
He is the longest tenured Eagle having been with the team since 1999.  He has an 82% career average on field goals and last season made 32 out of 38 attempts.  He is still a good kicker and was looking for a new contract to remain in Philly.
But the contract negotiations took a harsh turn after Akers rebuffed the Eagles' offer and then went on to miss two critical field goals in the playoff loss to Green Bay.  He was subsequently transition tagged after the season.  The transition tag is similar to the exclusive rights tag in that the Eagles will have the right to match any offer he receives.
But with the drafting of Alex Henery, Akers will be taking his black belt in martial arts and go karate kick field goals somewhere else next season.
G Reggie Wells and CB Ellis Hobbs
These two are pretty much after thoughts around Philadelphia.  When mentioned, most people respond with "oh yeah, forgot about him".  Reggie Wells was a starter in Arizona in 2009  but could barely crack 3rd string here in Philly.  After back to back seasons with neck injuries, Hobbs should and will retire despite his recent claims to the contrary.
Neither player will be back wearing an Eagles uniform next season at the least.
About the Author