During Andy Reid's tenure here in Philadelphia there have been many good football players on his teams.  Donovan McNabb, Tra Thomas, Troy Vincent, Jon Runyan, and Brian Dawkins are merely a handful of examples.  But while those were excellent players, would you have considered any of them a "surprise"?
A surprise is something that is unexpected and could be of the good or bad nature.  Usually though, when one thinks of a surprise it connotes the positive aspect and is considered pleasant.  That's what we're going to focus on here; players that were considered a pleasant surprise.  
These would be players that we had very little or no expectations of that ended up being a starter or solid contributor.  Or players who superseded their expectations to the point where nobody could have imagined how good they really were.  Hence, the surprise factor.  
Just the other day I made a list of the top 10 most disappointing players of the Andy Reid era.  I think it's only right that I follow that up with a more positive list of players who made the most of their opportunities and/or beat the odds.
10.  QB A.J. Feeley:  He was a 5th round draft pick in the 2001 draft and nobody batted an eye after the selection.  He was going to be the third string quarterback on a team where Donovan McNabb was the rising star and Koy Detmer was entrenched as the back-up.
But in a woeful span of two weeks in 2002 where McNabb suffered a broken leg and good ole "Neck Beard" (Detmer) dislocated his elbow the following week, Feeley suddenly found himself in the starting line-up. 
He took over a 7-3 football team with Super Bowl aspirations and promptly led them to 5 straight victories after pretty much everyone had conceded the season.  Who would have thought a third string, second year QB could have handled such a responsibility?  Feeley played well enough that the following offseason he was traded to Miami for a second-round draft pick.
9.  C Hank Fraley:  He initially signed with the Steelers as an undrafted free agent in 2000 but ended up being cut and subsequently claimed off of waivers by the Eagles.  He made the team as a reserve center but never played a single snap during his first year.
Bubba Miller was injured on opening day in 2001 and Fraley stepped in at center.  He started the rest of the season and played well enough to earn a permanent spot along the offensive line.  He went on to play for the next four seasons before being injured mid-way through the 2005 season and ended up losing his starting job. 
He was traded that offseason but the player who was dubbed with the nickname "honey buns" by his teammates, had beaten the odds and established himself as a quality NFL player. 
8.  C Jamaal Jackson:  He was another undrafted free agent who signed with the Eagles in 2003.  Again, most people never heard of him since he came from a small school (Delaware State) and was a long shot just to make the roster (much like Hank Fraley). 
He proceeded to make the roster as a reserve lineman and sat for two years until he got his chance when Fraley was injured in 2005.  He took over at center and played very well for the rest of the season.  Jackson and Fraley entered the 2006 training camp in a huge battle to win the starting job.  Jackson ultimately won, Fraley was traded, and Jamaal has been the starter ever since.
Not bad for a couple of undrafted free agents right?  The two were even featured on the cover of Sports Illustrated where their camp battle was highlighted.  Jackson signed a seven-year contract extension in 2006 and is still being counted on to be an integral part of the Eagles' offensive line.
7.  DT Sam Rayburn:  Talk about coming out of obscurity!  Rayburn was an over-the-road tractor-trailer driver when he signed with the Eagles as an undrafted free agent in 2003.  Surprisingly he actually earned a roster spot but only played sparingly during his first year. 
In 2004 he earned a starting spot and played so well in recording six sacks and two forced fumbles, that the Eagles signed him to a five-year extension.  The player dubbed "truck driver" by his teammates went from dropping off truck loads to dropping quarterbacks seemingly overnight.
Though his production dwindled drastically the next two seasons before being cut, he certainly surprised many people and is worthy of a spot on this list.
6.  CB Rod Hood:  Yet another undrafted free agent who was merely an afterthought, he signed with the Eagles in 2003.  The Eagles had just drafted Lito Sheppard and Sheldon Brown the previous year to eventually replace Troy Vincent and Bobby Taylor so Hood was barely on anyone's radar.
He played well enough to earn a roster spot and eventually worked his way to the nickel-back position in 2004.  He then filled in as a starting corner for several games when Sheppard was injured in 2005 and recorded three interceptions and 15 passes defensed. 
Hood was considered a starting quality cornerback on a team that already had two starters.  He left the Eagles after the 2006 season as a free agent and went on to sign a five-year, $15 million contract with the Arizona Cardinals. 
5.  DT Darwin Walker:  He was originally a third-round draft pick by Arizona in the 2000 draft but was cut before ever playing a game.  The Eagles claimed him off of waivers that year and stashed him on their roster.  At the time, nobody thought much of it as we already had Corey Simon and Hollis Thomas as the starters.
He didn't play much his first two seasons but broke out in 2002 with 7.5 sacks which is excellent for a defensive tackle.  He was then immediately signed to a six-year contract extension.  Walker tallied up 27.5 sacks over six seasons before being traded after a bitter contract dispute. 
Not bad for a player who was discarded by a lousy team before ever getting the chance to prove himself.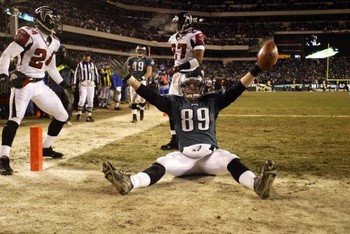 4.  TE Chad Lewis:  He actually signed with the Eagles initially as an undrafted free agent in 1997, two years before Andy Reid's arrival.  But, he was cut in the beginning of 1998 and went to the Rams for two seasons before being cut again.  Andy Reid brought him back on board in 1999 and nobody expected much of the already twice-cut player.
However, the following year in 2000 he busted onto the scene with 69 receptions for 735 yards and three touchdowns.  He quickly became McNabb's favorite receiver and amazingly went on to earn three trips to the pro bowl (how's that for an undrafted player who was cut twice?). 
He was a stalwart player in the offense all the way through the 2005 season before injuries and age caught up to him.  It was a real heart breaker when he broke his foot while catching a touchdown pass in the 2004 season's conference championship game.  He didn't get the chance to play in the Super Bowl where he could have made a difference.
3.  DE Trent Cole:  He was a fifth-round pick from Cincinnati in the 2005 draft.  Nobody, myself included, had never really heard of him.  And as a fifth-round player, nobody expected much of him.  Plus, the Eagles already had Jevon Kearse and N.D. Kalu.
However, he impressed the coaches in training camp and preseason enough to earn himself a roster spot.  He became part of the rotation at defensive end and recorded five sacks as a rookie.  In just his second season, he was playing so well the Eagles signed him to a five-year contract extension.
All this unheralded player has done in the past six seasons is accumulate 57 sacks, 11 forced fumbles, make two pro bowls, and was named to the list of the top 100 players in the NFL (ranking 73rd, and some believe he should have been higher). 
Cole is still in his prime and is being counted on to continuing his surprising run as one of the top rated defensive ends in the NFL.
2.  RB Brian Westbrook:  He was a third-round draft pick in 2002 from the small school of Villanova.  Even though he put up good stats in college, most NFL scouts considered him very risky because he was small and had an injury history.
Eagles fans didn't think much of the draft selection since they already had work-horse running back Duce Staley and back-up Correll Buckhalter.  Most people thought the best he would ever amount to would be as a "scat back" or third-down specialist. 
It wasn't until 2003 when he showed a glimpse of his greatness to come.  He single-handedly turned the Eagles season around when he returned a punt for a touchdown against the Giants in the final two minutes of a game, and possibly a season, that appeared lost. 
After the departure of Duce Staley in 2004, Westbrook became the starting running back.  He showed tremendous skill in totalling 1,500 yards of offense and scoring nine touchdowns.  Between 2006 and 2007 he accumulated over 4,000 total yards and scored 23 touchdowns. 
Westbrook was simply utterly amazing.  He went way above and beyond anyone's expectations and even proved to be more valuable to the Eagles offense than Donovan McNabb. 
1.  QB Michael Vick:  Was he truly a surprise?  After all, he was a number one overall draft pick and former three-time pro bowler with the Falcons.  My answer is an emphatic yes!
I'll be honest with you, I never liked Vick well before his incarceration.  I just never viewed him as a true quarterback.  I felt that he was a great athlete and was exciting to watch when he ran with the football but as an overall quarterback, I thought he was below average.
When the Eagles signed him I was shocked and disgruntled.  Besides all of the hoopla about his crime, I just didn't understand why we needed him for football reasons.  We had McNabb and heir apparent Kevin Kolb. 
What was the need for Vick?  Why invite all the public relations nightmares for a player who, in my opinion, wasn't any good to begin with and we had no need for him?
That is why after witnessing last season he is number one on my list as the most surprising player of the Andy Reid era.  Vick was simply electrifying last year.  I couldn't believe how well he played and how well the Eagles did with him at the helm.  I entered the season fully expecting Kevin Kolb to be the starter.
In just 12 games last year, Vick threw for 3,018 yards and 21 touchdowns while rushing for 676 yards and another nine touchdowns.  Those are amazing stats!  The "new" Vick played so well that Andy Reid made a rare detour from his grand plan with Kolb. 
And of course now Kolb is trade bait and everyone is expecting Vick to lead the Eagles to the promised land in 2011.
To be honest, I will be even more surprised if Vick ever leads the Eagles to a Super Bowl.  If he accomplishes such a feat, he will be perhaps the most revered Eagles quarterback of all-time. 
How would that make for a surprise?
About the Author