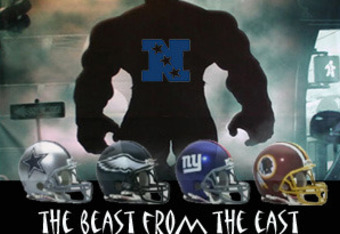 The Philadelphia Eagles are the reigning "Beast of the East" and will be until further notice.  They posted a division best 4 – 2 record last season with one loss each to the Redskins and Cowboys. 
But the 17-12 loss to the Redskins was when Michael Vick was injured and the loss to Dallas was a meaningless game at the end of the season when we played our entire second and third string…and still almost won (final score was 14-13).  The Eagles could have easily been 6-0 against NFC East foes last year.
In order to be the best you have to beat the best.  Just as the Packers will be the league champs until somebody knocks them out, the Eagles are the best in the East until somebody proves otherwise.
Who will be the NFC East Beast in 2011?  Let's start by taking a quick look at the final standings in 2010 and how each team ranked on offense and defense:
Team   2010 Record/Division   Offensive Ranking    Defensive Ranking
Eagles              10-6 (4-2)                                        2nd                                      12th
Giants              10-6 (3-3)                                        5th                                         7th
Cowboys         6-10 (2-6)                                       7th                                       23rd
Redskins         6-10 (2-6)                                       18th                                      31st
The Giants ranked in the top 10 in both offense and defense but yet didn't make the playoffs.  Three out of four ranked in the top 10 offensively which says they can certainly put points on the board.  Two out of three ranked in the bottom third of the league defensively and if you factored in the Eagles' red zone woes, they'd be towards the bottom too. 
Obviously last year the division was a two horse race between the Eagles and Giants.  It was very close and if not for that improbable comeback victory up in New Meadowlands Stadium, the Eagles may not have come out on top.  The Cowboys were horrible under Wade Phillips but improved under Jason Garrett.  The Redskins were a mess all year as they dealt with the Shanahan shenanigans and Donovan McNabb McDrama.
In the past 12 seasons since Andy Reid became coach, the Eagles have dominated the division by winning it six times.  The Giants are the runners up with three division titles, then Dallas with two, and pulling up the rear are the Redskins with one (and that was in 1999). 
However, in each of the past three years there has been a different winner which is an indication as to just how competitive this division still is.  I fully expect 2011 will be no different as each team should be improved, except for maybe the Redskins.  But who should be the favorites as of right now without the benefit of a chance to add free agents?  Let's look at each team's biggest weaknesses and see how they've addressed them so far.
Washington Redskins  
Biggest needs: Quarterback, offensive line, playmaker on offense, pass rush
The 'Skins actually had a decent draft for once.  They selected DE/OLB Ryan Kerrigan, DL Jarvis Jenkins, WR Leonard Hankerson, and RB Roy Helu with their top four picks.  Kerrigan and Jenkins will help the defense but they will also most likely lose starting CB Carlos Rogers. 
That leaves holes at two positions in their secondary, cornerback and free safety.  They still have not addressed quarterback which is their #1 need and is the most important position on an NFL team.  Plus, you can't count on a third round receiver and fourth round running back to be a "playmaker" in their first year.
The Redskins have the most holes to fill and also are the most dysfunctional team in the division.  If they can't get their QB situation corrected and/or resolve the coach – offensive coordinator – quarterback drama triangle, 2011 will not end up much different than 2010.  Never say never but they are the favorites….to come in last again.
Dallas Cowboys
Biggest needs: Offensive line, secondary, linebacker
The 'Boys drafted the top rated tackle in Tyron Smith.  He, along with fourth round pick David Arkin, should improve an offensive line that has a serious lack of talent.  They also drafted OLB Bruce Carter in the second round.  Carter was arguably a top 10 draft prospect before tearing his ACL in December.  Some feel Dallas got a steal here and that may be the case.  However, it is unlikely he'll have any value in 2011 while recovering from his injury.
They have not addressed any concerns in their secondary as of yet.  Mike Jenkins regressed last season and Terence Newman is in decline.  I'm sure they hope second year man Akwasi Owusu-Ansah will be ready to contribute after the college cornerback has spent a year learning the safety position but he is a raw prospect.  Unless they get this corrected, teams like the Eagles and Giants will continue to torch them.
New York Giants
Biggest needs: Secondary, linebacker, defensive line, punter (because he actually kicked it to DeSean!)
The Giants were extremely fortunate to have cornerback Prince Amukamara fall directly into their laps on draft day.  They were able to fill a huge need with a top 10 player.  They then followed that up by taking underrated DT Marvin Austin in round two therefore protecting themselves in case they lose Barry Cofield.  Third round WR Jerrel Jernigan will upgrade their special teams by giving them a decent return man. 
They did not address the linebacker position yet and could also use some improvement at running back.  But this team didn't really have any "glaring" holes to fill as they are in relatively good shape.  Eli Manning just needs to play more consistently and get better protection from the offensive line.   The defense needs some tweaking as they haven't been the same since Steve Spagnuolo left.
Philadelphia Eagles
Biggest needs: Secondary, offensive line, linebacker
The Eagles landed the top rated guard in the draft in Danny Watkins.  He will be an immediate improvement to the right side of the offensive line.  They addressed the secondary by selecting safety Jaiquawn Jarrett and cornerback Curtis Marsh in the second and third rounds respectively.  Jarrett will be a candidate to start but Marsh will need time to develop.
They also added a few more mid – late round offensive linemen for depth and added a couple of linebackers, including Casey Mathews who fans hope he can be at least half as good as his bloodline would suggest.  However, the Eagles still need to address the cornerback position in a major way.
All in all each team has improved to some degree.  Of course, they are not done filling their remaining holes as we have not had free agency yet.  The Redskins are the only team that appear to be too far behind to compete with the other three. 
This year the division will be a three horse race between Dallas, New York, and Philadelphia.  All three are fairly evenly matched and each divisional game is going to be a battle.  Don't let Dallas' 6-10 record from last year fool you, they will be tough and the Giants are a solid and well coached team (they didn't finish in the top 10 on offense and defense for no good reason). 
However, what sets the Eagles apart from the rest is one person: Michael Vick.
Vick is without question the most dangerous quarterback in the division.  With the weapons surrounding him and his ability to make plays with his legs, he has that extra-added dimension that Tony Romo and Eli Manning just don't have.  Michael Vick is, in a word, explosive.  Romo and Manning are, in a word, inconsistent.  They can look very good one week but the next week they make baffling mistakes.
The NFL is a quarterback driven league these days and the Eagles have the best one in their division.  As long as he remains healthy, he is what will be the deciding factor in the race for NFC East dominance.
About the Author