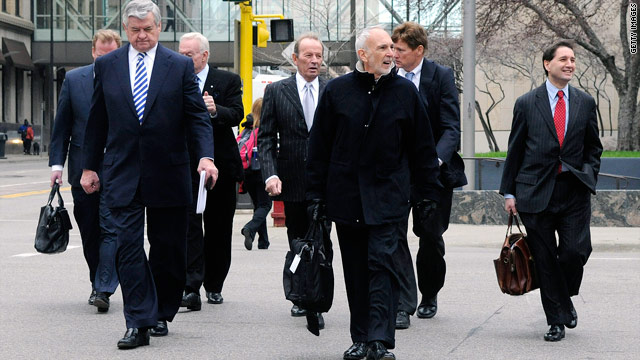 Several news sources, including Adam Schefter and the National Football Post, reported recently that the new proposed CBA will include the return of the four-year accrued service rule (plus expired contract) to be eligible for free agency.
However, Chris Mortensen told 101 ESPN that "once the free-agency frenzy commences, the owners want to have a right of first refusal as to three or four players per team."  This would be the equivalent of each team having three or four more transition tags to place on impending free agents and give them the option of matching any contract offer a player receives.
Their reasoning is that, with the four-year rule, free agency would be complete chaos.  Basically, there will be two years worth of fourth and fifth-year players hitting the market at the same time.  Last year's uncapped season rules dictated that players needed six years of accrued service to be eligible to hit the market.
So as you may remember, that drastically cut down on the amount of available free agents last year.  Players who completed their fourth or fifth season last year were suddenly restricted instead of being able to sell their services to the highest bidder.
That's why this year the market will be flooded.  But on the other hand, couldn't that mean it would be a "buyers market" and therefore reduce the cost of such players?  In this aspect it could actually benefit the owners.
But either way, I say bring on the chaos!  In my opinion, that's one way how the NFL can do right by the fans.  We have all been starved of any meaningful football action since the Super Bowl.  Let us gorge ourselves on a frenzied feast of free agent activity over a two-three week period.
Otherwise, if teams are able to designate additional players with this right of first refusal tag, it will again greatly reduce the available amount of quality free agents.
Just think, players such as Jonathin Joseph, Antonio Cromartie, Brent Grimes, and Mathias Kiwinuka could be taken out of consideration.  This rule would hurt the teams who are poised to spend big money in free agency (the Eagles, for example) but help teams who may stand to lose some key players.
Those fans hopeful of landing the highly coveted Nnamdi Asomugha need not worry though as his contract stipulated the Raiders could not place any tags on him.  So either way, he'll be a free agent.  But you may want to realize that if the cornerback market loses substantial competition, his price will be even higher if you can imagine that.
Being an Eagles fan, of course I hope this "want" by the owners doesn't go through.  I'm ready for my team to act like Young MC and "Bust a Move".
About the Author