If all goes according to plan, this year could be one of the best free agent classes of the salary cap era.  This, of course, would be due to last season's anomaly of a six-year rule for free agent eligibility.  Once in place, the new CBA will revert back to the normal four-year eligibility rule and therefore two years worth of 4th and 5th year players may hit the market.
Unless the owners try to build in a "right of first refusal" tag that they can place on additional players, there promises to be an exciting and chaotic free agency period before teams start training camp.  That is, if a new CBA is agreed upon soon (which there is general optimism it will be).
With that said, much attention has been paid to predicting where the top free agents will ultimately end up.  However, what about taking a minute to look at which free agents would be bad matches for certain teams?  Could an uber-talented player such as Nnamdi Asomugha actually be a "bad fit" somewhere?
Sometimes players are bad fits for reasons other than just football related.  Offensive and defensive schemes are the most important things when matching up players and teams but so are some extraneous factors such as environment, personality, opportunity, and future goals. 
We're going to take a look at 10 of the top free agents that are scheduled to become unrestricted and see which team they would best be served avoiding.  Not all matches are made in heaven.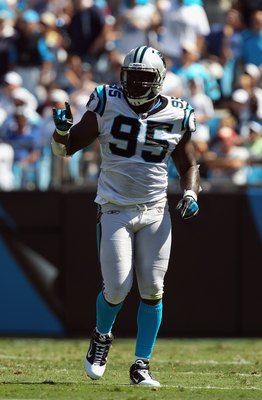 DE Charles Johnson
Surprisingly, this 6′ 2″, 275 lbs defensive end broke out with 11.5 sacks last season after Julius Peppers bolted for the Windy City.  You better believe that he is Carolina's top priority to re-sign; if they let Peppers and Johnson walk away in consecutive years Carolina better just pack up and move to Los Angeles because their fans (all three of them) would show up to the stadium with pitchforks and torches.
But if he did somehow escape from h-e-double hockey sticks, where shouldn't he go?  Defensive end is a premier position and all teams are always looking for good pass rushers.  However, Johnson is a pure 4-3 defensive end and last year he excelled in Ron Meeks' scheme that allowed him to be aggressive up the field.
He wouldn't blend well in  3-4 schemes that require their DEs to drop in coverage every so often.  I think the Jets would be alluring to a player like Johnson but it would ultimately be a bad match.  Rex Ryan uses a hybrid scheme that does blend in some 4-3 defensive alignments but he switches is up and therefore would not utilize Johnson's natural abilities to the fullest extent.   
Both parties would end up frustrated after time, talent, and money have been wasted.
WR Santonio Holmes
Holmes has had an interesting career so far to say the least.  He was highly touted coming out of college but drafted by a Steelers team known for running the ball.  His stats have been average for the most part with the exception of 2009 where he broke out for 79 catches, 1,248 yards and five TDs.
His career highlight came in Super Bowl XLIII when he caught the game winning TD and was named the game's MVP.  However, his career has also been marked with legal troubles involving marijuana, domestic violence, and throwing a glass at a woman in a nightclub. 
It was these types of issues that led to the straight-and-narrow Pittsburgh Steelers to trade him.  He has the on-field talent to produce well in most places but with him it will be a matter of how he fits in personality-wise.  He would not do well on teams like the Steelers that do not tolerate players with off-field issues.
Teams like the Colts.
Playing with Peyton Manning and the Colts would be a great opportunity for a player like Holmes but the personalities between he and the likes of Manning and Jim Caldwell would go together about as well as a flame and a stick of dynamite. 
Colts president Bill Polian places a very high emphasis on character, something of which Holmes appears to lack.  Plus, with Peyton Manning now being a "Football Cop", Holmes might have trouble catching football bullets.
RB DeAngelo Williams  
Williams has a five year career average of five yards per carry.  He is a good all-around running back in that he can pretty much do it all.  He is the kind of player that wants the ball as much as possible but has benefited from a rotational system. 
Though he struggled with a foot injury in 2010, he will be highly sought-after in free agency.  I'm sure Miami has someone staked outside of his home just waiting for the green light to pounce.
But where would Williams' talents be underutilized?  How about the team that views running the ball much the same way a child views brussel sprouts on his dinner plate?  The Philadelphia Eagles. 
Even though Williams is a capable receiver, his running skills would go into hibernation in Andy Reid's pass happy offense.
CB Johnathan Joseph
Joseph is generally considered the next best available free agent cornerback on the market after some guy named Nnamdi.  The difference between him and Asomugha is that Nnamdi is a better press corner and Joseph's skills are better when playing off the ball.  In this sense, Joseph's worst matches would be with teams who play mostly press coverage with their CBs.
However, I think the worst thing for his career that he can do is to actually re-sign with his own team.  Why?  Quite frankly Cincy isn't a good match for any player.  They routinely let good talent leave and never spend money to bring in quality players. 
Joseph is a good talent wasting away on a team that finds new ways to lose every year.
RB Ahmad Bradshaw
The "Lightning" to Brandon Jacobs' "Thunder", Bradshaw saw his workload increase last season as he took over the role of being the primary running back.  His stats show he had a pretty good season but also proved to have fumbling problems as well as nagging injuries.  His relative diminutive size also means his body will not hold up against the pounding a primary RB has to endure.
Because of that, I believe he needs to remain in a scheme that utilizes a running back rotation and where his receiving skills out of the backfield would be highlighted. 
Therefore, going to a run-heavy team like the Steelers would be like walking into a bar in the heart of Pittsburgh during a Steelers/Ravens game and ordering a wine spritzer…there's no place for fancy in a town full of blue collar steel workers.  
CB Nnamdi Asomugha
The prized free agent of 2011 and will perhaps be the most coveted free agent since Reggie White.  He is arguably the best cover corner in the NFL and will command a mega contract.  Could a player of his magnitude actually be a bad fit anywhere?
He is a physical press corner so one may question his fit as primarily a zone cornerback but I think that Nnamdi is such a unique talent that any defensive coordinator would tweak his scheme to maximize his talents. 
So basically we need to look at what team he could go to that would continue to let his immense skills go to waste.  He is used to losing so he should be looking for a team that has a good chance of winning.
This is why the Washington Redskins, the team where players go to die, would be the absolute worst match for Asomugha.  Washington annually puts the "fun" in dysfunctional and it seems no matter what players they bring in, the team never has success. 
If he wants to play for a winner, he will go to extraordinary measures to ensure he doesn't even so much as speak to anyone remotely associated with that organization.
About the Author