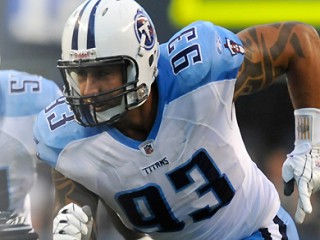 Jason Babin took part in a Q & A with Steve Wyremski of Pro Football Focus and answered a few questions related to the Eagles.  Even though his Andy Reid anecdote was humorous, if you consider a key part of his answer and reach into your memory banks for a quote by Quintin Mikell after the 2009 season, you can see why it's unlikely that Babin will be an Eagle again.
First, here is the main question and answer I'm referring to:
SW: You're entering free agency this offseason after the lockout is cleared up. Your defensive line coach, Jim Washburn, is headed to the Eagles. With you playing for the Eagles previously for one season and them not matching the Titans offer back last season, is there any bad blood there from your year there that would keep you from signing with them?

JB: No, I think any and all feelings if they were bad could be waived by a healthy contract. There's one thing that Andy Reid said to me [that] I kind of laugh about now because of the success I had last year, but it's a story I like to tell.

It was the beginning of my first game as an Eagle and then there on the Jumbo Tron, ESPN or something was on and they were talking about defensive ends in the preseason. They were talking about me, "oh, the most productive defensive end in preseason…" and I'm standing on the field and I wasn't dressing for the game.

Andy Reid walks by and he goes, "Hey! You got some coach that doesn't let the best defensive end in the preseason play." At the time, obviously you can imagine how you feel. I understand the situation and a little later understood his humor/personality and can laugh about it now.

I was paraphrasing there. I can't remember exactly what he said, but something along those lines.
Obviously you can see Andy Reid's sense of humor coming out there though it seems that it didn't sit well with Babin at the time.  But the key part of that answer is the very first sentence. 
His "any and all feelings if they were bad" part indicates to me that, yes there were bad feelings.  He is merely being diplomatic in his answer and would rather try to salvage and burnt bridges rather than set them on fire again.
The "could be waived by a healthy contract" portion of his answer means that he'll be looking to get paid a good amount of money.  Translation means that Babin will go where the money is, plain and simple.  If some team is willing to pay him more, the Jim Washburn connection will mean nothing.
Then, allow me to pull up a quote by Quintin Mikell in April of 2010 which was directly after the season in which Babin left the Eagles:
"There was just a lot of negativity," Mikell said. "A lot of people weren't putting the team first. Everybody's guilty of it at some point – I've been guilty of it here and there. But when it's all the time, then it's a problem. We've never had that before, since I've been here."

"We've never been a selfish team, where guys were more worried about what they did individually than how we did as a team. But we had guys who were more concerned about how the game plan affected them. It was, How am I going to get my sacks if we're doing this, instead of, 'Hey, let's go out and do whatever it takes to win the game."
I bolded the part that certainly makes it seem that he could have very well been referring to Babin.  There's also a chance he was referring to Chris Clemons as well but if I were a gambling man, my money would be on Babin for sure (and maybe both). 
So in essence, if there were bad feelings between him and the Eagles and he was viewed as being selfish and not a team player, chances are slim Reid and Co. would want him back. 
Plus, with the glut of players at the defensive end position already on the roster, it's unlikely that the Eagles will spend big money there.  I've discussed before that it's more likely that they'll look for a low risk, high reward-type player rather than an expensive player. 
Especially one that flamed out the previous six years with four other teams.
About the Author