Maybe if we speculate on every free agent we'll almost certainly get one right, right?  Throw everything against the proverbial wall and something is bound to stick; even if what sticks is the same substance one can find in a baby's diaper.
But in these wild and crazy times of lockout lunacy, speculation and rumors are king.  The latest is from the well respected Adam Caplan at Fox Sports. 
Caplan reports the following about the Eagles and Ike Taylor:
According to multiple sources, the Eagles will show strong interest in Taylor once free agency starts. And with the Eagles possibly playing more zone and less man coverage in the secondary this season based on the adjustment the defensive line is expected to undergo, Taylor would fit in quite well.
Ike Taylor is a player that we knew would be hitting the free agent market, he's just not as desirable as a few other cornerbacks who will be out there as well.  Of course, we as Eagles fans only want the best players available at every position of need!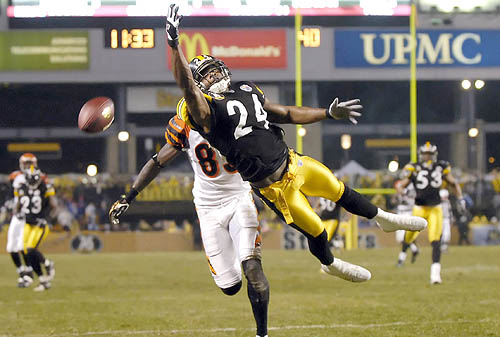 I wrote yesterday about a scenario that Ike Taylor would be a strong candidate to sign with Arizona in order to replace Dominique Rodgers-Cromartie if he were traded to the Eagles.  I still think that's a viable scenario that could shake out.
But as far as the thought of Taylor joining the Eagles, I view it as merely "okay".  He's a year older than Nnamdi, will cost much less, but will not be nearly as good as Asomugha or as young and potential-laden as DRC.  Taylor would basically be a two-year rental in the hopes that Curtis Marsh and/or Trevard Lindley will develop into a starting caliber cornerback.
Taylor is an experienced veteran and would certainly be an upgrade at RCB and help in the push for a championship this season.  But he doesn't fit in with Andy Reid's youth movement.  DRC, on the other hand, does.  I still think DRC is the better option for both this season and the future.
Though Marsh and Lindley could turn out to be good players, I'm not willing to bank on it just yet.
In that same article by Caplan, he speculates that the Eagles might also have interest in Jaguars middle linebacker Kirk Morrison.  This is the first time I've heard anyone speculate on this player, or any linebacker for that matter in regards to the Eagles.
Morrison was a third-round draft pick by Oakland in the 2005 draft.  He started for five seasons before being packaged with a fifth-round pick and traded last year for a fourth-round pick from the Jags.  Doesn't seem like much value for a starting middle linebacker.
Morrison is a tackling machine and made a tremendous amount of plays in 2006 and 2007 in recording 248 tackles, six INTs, 15 passes defensed, and 23 TFLs.  However, while he still always makes his way to the ball carrier, I don't see him as much of an upgrade over Stewart Bradley.
For the record, I don't see the Eagles making a move for a free agent linebacker.  If they choose not to re-sign Bradley, then maybe they'll make a move here.  But there isn't a free agent linebacker out there that gets me excited.
Apparently the lockout is not affecting DeSean Jackson's wallet as he spent $25,000 at a night club the other night…
Looks like DeSean has a taste for some expensive alcohol.  With bills like that he better hope he gets his payday.  Otherwise he'll have to start cutting back a little bit and his next twit-pic might look something like this:
After not showing up to any of the player workouts, maybe Jackson should tone it down a little bit.
About the Author