All across Canada last night, Senior Centers erupted with excitement.  One of their own was just drafted by the Philadelphia Eagles with the 23rd overall pick in the NFL draft.  Bust out the geritol, it's time to celebrate, eh!  So instead of collecting social security, Danny Watkins will now be collecting an NFL paycheck.
I know I know, he's old, you get it.  He's also a Canadian firefighter.  And, he's also only played 4 years of football in his life.  I'm sure you've heard all of that by now though so I won't get into any more detail.
Watkins, 6′ 3″ 310 lbs, is 26 years old and will be 27 mid-way through next season.  I'm sure my reaction was like most Eagle fans…."What?  Who?  With Smith, Carimi, Jordan, and Bowers still on the board?  What the <insert expletive here>????!!!"  But after I got past the shock and slept on it, I now feel better about the decision.  Why, you ask?
First, he is a very highly rated guard.  Most projected him as a high 2nd rounder but there were some who thought he'd sneak into late round 1.  Mike Mayock described him as "one of the nastiest players in the country".  As an Eagle fan, how can you not like that kind of description by the well respected Mayock?  Plus, OL was certainly a big need for us anyway.
Secondly, given that Watkins is, umm, older…he should adapt much quicker than a typical rookie due to maturity level.  He will almost certainly start from day 1 at the RG position.  Reid/Roseman could have decided to go this way because they want to take advantage of a short window for success with the current team (well, mainly Vick).  In this way, you can look at it as if Andy Reid is in a "win now" type of mode rather than his usual "pick for the future" mindset.  Watkins will have a shorter learning curve and be an instant upgrade to our OL.
In general, the only concern I do have is his age.  But that concern is about the future, not the next few years.  Instead of looking forward to potentially a good 12 or so years with him, we may now be reduced to a 7 – 8 year time frame.  Though he could possibly play a little longer than average since he doesn't have a lifetime of football wear-and-tear on his body.  At the end of the day, I now like the pick and I'm perfectly ok with it.  Especially if he's got some nasty in him!
The real Danny Watkins: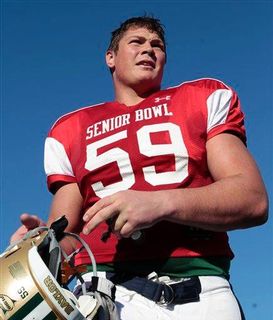 About the Author