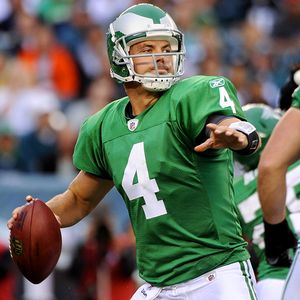 A few days ago it was reported  that the Eagles are looking to receive a 1st round draft pick "plus something else" for Kevin Kolb.  Dan Pompei from the National Football Post (link to original article not available any longer) reported it initially and it was reiterated here by the Daily Norseman.  Dan Pompei speculated that the "something else" is probably a 3rd round pick.  Previously I wrote that Kolb is probably worth a 2nd rounder plus another pick and based it off of 2 previous trades of other QB's in a similar position (Cassel, Schaub). 
However, I think the Eagles are being smart by putting the price for Kevin Kolb at a minimum of a 1st rounder (or a 1st +).  In all reality they should not trade him for anything less.  Think about it for a minute, if you were the Eagles what would you do?  They invested a 2nd round pick in him, have developed him for the past 4 years, he's shown ability, and now have a #1 QB in Vick that has an above average chance of missing substantial time due to injury.  They should get good return on him.  Actually, they NEED to get good return.  If not, there is a good chance Reid and co. end up with egg on their face.
Picture this: Kolb gets traded, then Vick gets injured and misses 6 games next year.  Our backup struggles and Vick never returns to form and we end up with a losing record.  All the while, Kolb excelled with his new team and led them to a winning record or to the playoffs.  To make things worse, we only received a 2nd round pick that was used on a player that made little or no difference.  Sound feasible?  It's certainly not that far out of the realm of possibility.  If that scenario were to happen, or something of a similar nature, the fans and media would be relentless in their criticism. 
At the end of the day it wouldn't be such a bad thing to keep Kevin Kolb around.  But if they do decide to trade him, I hope the Eagles get what is considered very good value for him.  Otherwise it could be their funeral!
About the Author